A325 Bolts
A325 Bolts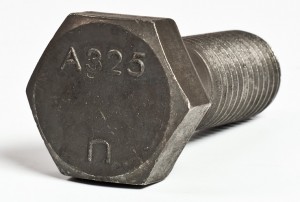 An A325 bolt is a high-strength structural bolt designed for heavy-duty applications that require exceptional tensile strength and reliability. It is part of the ASTM A325 standard, which specifies the requirements for structural bolts made from medium carbon steel.
A325 bolts are commonly used in construction and structural engineering projects, such as bridges, buildings, and other load-bearing structures. These bolts feature a heavy hexagonal head, which provides a larger surface area for wrenches or sockets to apply torque during installation or removal. The head is thicker than a standard hex bolt head, allowing for increased bearing capacity and resistance to deformation or stripping.
The threaded portion of an A325 bolt has a coarse thread pitch and is intended for use with a corresponding nut to secure the bolted joint. The bolt is manufactured with a specific length and diameter to meet the requirements of the application.
A325 bolts are typically made from medium carbon steel and are heat-treated to achieve the desired strength. They have a minimum tensile strength of 120,000 pounds per square inch (psi) and are designed to resist shear, tension, and fatigue forces.
It's important to note that A325 bolts are typically used in steel-to-steel connections and should not be used in situations involving dissimilar metals or environments where corrosion resistance is essential. In such cases, alternative bolts or coatings may be necessary.
A325 bolts offer a reliable and durable solution for structural applications where high strength and load-bearing capacity are crucial. Their specific design and strength characteristics make them a preferred choice in demanding construction projects where safety and stability are paramount.